Wedding Traditions: Their Place and Their Optionality
Weddings have always been steeped in deep-seated customs and historical traditions. However, as societal norms shift and individual preferences evolve, some established wedding practices are finding their place in the annals of the past. This shift is not a reckless disregard for tradition or reflective of ingratitude, but rather: 1) an embrace of personalization, as modern couples seek to infuse their celebrations with authenticity; and 2) the desire and priority of a couple feeling comfortable on their wedding day.
The most important thing here is that you feel joy, comfort, and fun on your wedding day. You should never feel pressured to do something that will make you uncomfortable, resentful, or even distracted from what matters most to you as a couple. That said, many of these traditions are important and/or a lot of fun for many couples, so this post isn't necessarily meant to discourage you from doing any of these, but rather illustrate their evolving and optional nature, reinforced by the growing trend among couples to reimagine or forego them altogether.
The wedding receptions we DJ average anywhere from four to eight hours long and yet, when you're having the time of your life, that time can fly by. So there's no need to waste precious reception time on traditions or expectations you don't even want to do in the first place! So with that, let's jump right in.
The Garter/Bouquet Toss
Photo by Tamilles Esposito
This tradition of the bride tossing her bouquet and the groom tossing the bride's garter to the single guests is becoming less common. The garter toss, in particular, has been criticized as being a little too risqué for some guests' taste and/or many couples themselves just don't feel comfortable doing it. If there's one idea that will be oft-repeated here, it's that when you don't feel comfortable with something, don't feel obligated to do it! For other couples, maybe they don't have a lot of single friends, which would be embarrassing or awkward for the few remaining singles. For others, the only reason they ditch it is simply due to the fact that it's just one more thing that holds your guests back from dancing!
Passed Champagne for Toasts
Photo by Joonas Kääriäinen
A wedding reception staple of weddings in years past, the champagne toast involves having the catering staff pour and pass flutes of champagne to each table prior to the toasts/speeches. This one, quite frankly, is almost always a waste of time and money. Drawing from my experience of more than 1,000 weddings, I can tell you that, it's clear that champagne isn't everyone's preferred drink of choice. More often than not, flutes brimming with the bubbly beverage are left to go to waste, minus the obligatory sips.
A refreshing alternative is to allow guests to toast with their preferred drinks. Simply have the DJ or MC announce the upcoming toasts with a 10-15 minute heads-up, giving everyone ample time to visit the bar. This way, guests can raise a glass of their favorite beer, wine, soda, water, or even sparkling cider (this is especially growing as the sober movement has gone mainstream). If champagne holds a particular appeal for you or some of your guests, you could opt to stock a few bottles available at the bar. This ensures those who truly enjoy champagne can choose that option, without the need to distribute glasses to every guest, who likely have other preferences.
Not Seeing Each Other Before the Ceremony
Photo by QUIN Bridal
The superstition of bad luck befalling the couple if they see each other before the ceremony is fading. Many couples now have "first look" photos taken before the wedding ceremony. This allows them to have a private moment together and can help to ease pre-wedding nerves. After all, photos take a LONG time. They're totally worth it, of course, but taking care of some of them prior to the ceremony (which a first look allows) can save you time, stress, and energy. Consult with your photographer about the pros and cons and different options.
Identical Bridesmaids Dresses
Photo by Carsten Vollrath
Couples are straying away from the tradition of bridesmaids wearing identical dresses. To allow for individuality and comfort, many brides are choosing color schemes and letting their bridesmaids pick out their own dresses within those parameters, so it's not random. This not only results in happier bridesmaids but also leads to more vibrant and diverse wedding photos. It also removes the unnecessary added expense that can burden your bridesmaids by limiting their selection (which almost always leads to much higher costs and financial strain).
Wearing a White Wedding Dress
Photo by Daniel Moises Magulado
While the white wedding dress is one of the most iconic images of a wedding day (and the image from many a young girl's dreams of her wedding day), more and more brides are moving away from this tradition. Brides are now exploring a range of colors, from soft blush pinks to deep reds, and even patterns or prints. It's all about choosing a dress that makes the bride feel like the best version of herself on her special day, whether that's white or a different color.
Being Given Away
Photo by Jonathan Borba
The tradition of a father "giving away" his daughter is being replaced by the more modern practice of the bride walking down the aisle alone or with both parents. It emphasizes the bride's autonomy and individuality. Some couples even choose to walk down the aisle together, symbolizing their decision to marry as a joint one. Don't get me wrong, we still work with many brides who prefer this tradition and choosing to move forward with it doesn't remove your autonomy or individuality, but like the other traditions here, it's something that is in fact optional.
Choosing a Side at the Ceremony
Photo by Asad Photo Maldives
The practice of dividing the wedding guests into a "bride's side" and a "groom's side" is becoming less common. Many couples are inviting their guests to sit wherever they feel most comfortable, fostering a sense of unity and camaraderie among all attendees. A wedding is a joining of two families so you may as well get started right at the beginning!
Also, sometimes a guest list might lean heavy on the numbers side for one party vs. the other due to being closer to one family/friends. Dividing your guests between who is there for whom amplifies those stark differences and can feel awkward, even us vs. them-ish. Instead the classic "pick a seat, not a side will do." That is, until we play 500 Miles! 😉
The Big, Beautiful Tiered Wedding Cake
Photo by Brent Keane
While still popular, many couples are ditching the classic tiered wedding cake for alternatives that better represent their tastes and are less expensive. Donut walls, cupcake towers, dessert bars, naked cakes, and macarons are all fun and delicious alternatives. It's all about creativity and personal preferences when it comes to modern wedding desserts. At my own wedding reception, we had a traditional cake for cutting and then 10-15 smaller cakes with flavors we just loved (red velvet, white, chocolate, vanilla bean, strawberry, etc.).
Another consideration is that, while the cake cutting itself is fairly short (and also optional, by the way!), the cutting up and passing out of the cake can be quite time consuming. Instead, we've seen a small cake for the cake cutting ritual, but towers of cupcakes and/or pre-cut sheet cake that is brought out once the ceremonial cake cutting is wrapped up.
Traditional Wedding Invitations
Photo by Tara Winstead
In the digital age, printed wedding invitations are often being replaced with digital ones. This can be a cost- and energy-saving option, especially for eco-conscious couples. Plus, with the added convenience of digital RSVPs, tracking your guest list becomes a breeze. Many websites like WeddingWire and the Knot also offer wedding website builders that include RSVP functionality. Problem solved!
The Unity Candle
Photo by Photography Maghradze PH
The Unity Candle is a tradition we see at a lot of the wedding ceremonies we perform. Basically the way it works is that a representative (usually one or both parents) bring a lit candle together to a non-lit candle. Together, they light the new candle and once lit, blow out their respective candles, leaving one candle.
Thus, two become one. A bride and groom become one person. Two families are joined together as one as a result of the marriage. It's a beautiful part of the ceremony, but sometimes it can get tough when — during outdoor weddings — the wind picks up. Plus, many of our clients are concerned that maybe the unity candle ceremony is becoming too overdone. Luckily, we have some fun alternatives to the unity candle that you can check out!
Bridesmaids & Groomsmen
Photo by Becerra Govea Photo
There are two aspects of this one: First of all, we're noticing more and more wedding parties becoming less gender-divided, with brides having men on their side ("bridesmen") and grooms having women on their side ("groomsmaids"). Same-sex couples in particular tend to have a lot of fun with shaking it up a little!
Second of all, we're seeing more and more couples ditch the wedding party altogether. Their priority is one of non-drama, since you'll eventually have to cap your wedding party and that means always excluding someone. Plus, if one decides to drop out argue their case for maid/matron of honor or best man, tough decisions have to be made and some couples are making it easier and less stressful by opting out of the wedding party concept altogether.
The "Tight Ship" Mentality
Photo by Andrey Grushnikov
Couples are forgoing rigid schedules in favor of a relaxed, flowy day. This means the party might start before the ceremony (pre-ceremony cocktail hour!) or the couple decides to attend their cocktail hour and extend it a bit to enjoy time with their friends and family.
This change reflects the overall shift towards a more personalized, relaxed and fun wedding over the "timeline to the second at all costs!" mindset of the past, which many couples find restricting and stressful. We love this trend at Amplify, but will note that it does take a good wedding coordinator and DJ/MC to truly pull it off naturally. You want it to flow and read your guests rather than a purely "anything goes" mindset of the reception just unintentionally moving on. I recommend creating a timeline, but allowing it to be flexible, and communicating this preference with your DJ/MC and wedding coordinator/planner.
Formal Seated Dinner
Photo by Ibrahim Boran
The wedding tradition of a sit-down dinner (also known as "seated" or "plated" dinner), where the guests pre-order their plate and catering staff brings out each plate to each guest, is being replaced by a variety of different food and drink options. Food trucks, tapas-style plates, and food stations that allow guests to sample a range of different cuisines are all becoming popular alternatives.
These alternatives not only provide a more relaxed atmosphere but also allow for more dietary variety to accommodate all guests. Having food stations spread out throughout the venue encourages more guests bumping into old friends and close family members and lots of natural social interactions. You can even get by with mixing up your tables with some having seats (older guests, etc.) and some high top tables for your younger guests to just have a place to set down a drink and plate in between moving through the reception.
It also allows you to have more fun with your menu. No longer do you have to choose an exact theme, but can have different food themes at different stations! As a food lover, I've always LOVED this idea. I've seen sushi bars at one station with sliders and fry cups at another with a third as a taco bar. Man, I'm hungry now.
Exclusively Traditional Music
Photo by Pixabay
While there's nothing wrong with the Wedding March and Canon in D, most couples we work with prefer to incorporate a broader range of music into their wedding ceremonies. For example, rather than traditional classical staples, groups like the Vitamin String Quartet, the Bridesmaid String Quartet, the Piano Guys, the Midnite String Quartet, and the Guitar Tribute Players cover modern, popular songs instrumentally, giving them the beautiful, elegant feel of classical music, but with a fresh update of this wedding tradition.
Traditional Gift Registries
Photo by Antoni Shkraba
For eons, it's been customary for a wedding guest to bring a gift along. Oftentimes a couple will send a gift registry along with their invite. Nobody wants three toasters, so a gift registry is a clever way to avoid duplicate or unwanted gifts.
While it might be nice to get lots of free stuff, you may not need all those gifts. Will all those extra possessions really make you happier, or will they just take up space in your house? Especially as couples are getting married later and later, it's also more likely they don't have a lot of need for more things.
So on that note, instead of a gift registry, here's a fun trend you can steal for your wedding: Create an experience registry.
An experience registry is like a gift registry, but instead of listing all the things you'd like to receive, you dream up the experiences you'd like to live. So rather than a blender, guests can give you tickets to a movie or museum. They can sign you up for a class or workshop. You get the idea. For six unique ideas here, check out our post, Steal This Trend: Experience Registries.
Having a 'Plus One'
Photo by Pavel Danilyuk
It used to be customary to allow single guests to bring a 'plus one' to the wedding. Nowadays, due to costs and the desire for more intimate settings, many couples are ditching this tradition. It's now more acceptable to invite solo guests without a 'plus one', except for those in serious relationships.
The Traditional Bridal Shower
Photo by Melike Benli
While still popular among some, the traditional women-only bridal shower is being replaced with co-ed wedding showers, or couples showers. This allows both members of the couple to participate and celebrate with friends and family from all genders.
The Ring Bearer and Flower Girl
Photo by Taha Samet Arslan
The inclusion of a ring bearer and a flower girl, traditionally roles for young children related to the couple, is becoming less common among wedding traditions. Some couples opt for their pets to play these parts, while others choose to carry the rings themselves or entrust them to a best man or maid of honor. One alternative I love? Flower grandmas!
The Pressure to Have a 'Perfect' Wedding
Last but certainly not least, many couples are ditching the wedding tradition of the pressure to have a perfect, flawless wedding. Instead, they are embracing the reality that things might not go exactly as planned and that's okay. Don't get me wrong: Details matter. A lot! That's one of our mantras internally and we take it very seriously, from playing the right song at the right time to pronouncing names correctly. But there are other things outside of anyone's control — even in our modern age, we still can't control the weather or many power outages, for example. Contingency plans are important too, of course, but after proper preparation, comes just enjoying your wedding day. What matters most is celebrating your love and starting your journey of marriage surrounded by loved ones.
Traditions Beyond Saving
I definitely left some traditions off of this list that are beyond dead and therefore not worth covering. They've been out of practice so long, they were already DOA even back when we first started Amplify! These include traditions like throwing rice, the receiving line, and cheesy dances like the Chicken Dance. Those are trends I anticipate (hope!) never make a comeback.
Want a fun read? Some traditions go waaaaaaaaay back — further than you might realize. And their origins are surprising and, in some cases, downright shocking! Check out 8 Surprising Origins of Modern Wedding Traditions and get ready to raise an eyebrow! 🤨
In Conclusion: Celebrating Your Unique Love Story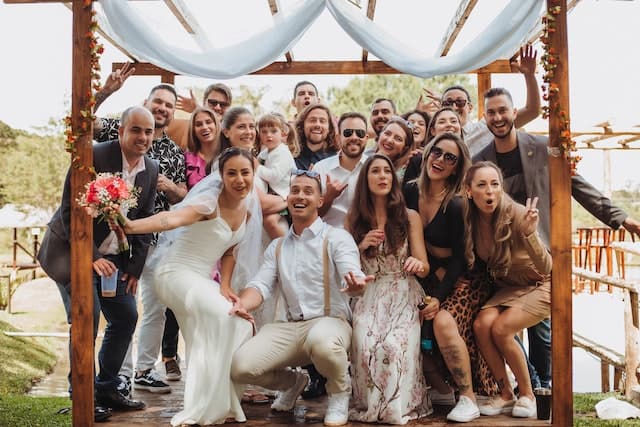 Photo by Luana Freitas
As we conclude our adventure among ever-evolving wedding customs and traditions, I hope it's become clear that the essence of a wedding lies in celebrating a couple's unique love story, not in the rigid adherence to traditions that are not significant to the couple. Sure, your religious traditions (if applicable) may be important to you, but a garter toss and tiered wedding cake have nothing to do with those.
The evolving nature of these customs reflects a broader cultural shift towards personalization and authenticity, where couples feel empowered to curate a celebration that truly reflects their shared values, tastes, and personalities. Whether you embrace all, some, or none of these traditions, remember that your wedding day should resonate with who you are as a couple. It's your day – a beginning of a new chapter that's written not by societal expectations but by your shared dreams and aspirations. Above all, the most enduring tradition, unchanged by time, is the celebration of love, commitment, and the joyous union of two souls. You rock!